MEDICAL PCB ASSEMBLY AND PROTOTYPE
The medical industry requires highest degree of precision, quality, and reliability when it comes to medical PCB assembly, manufacturing and prototype requirements. The medical electronics device manufacturing has intense competition. It requires high degree of innovation in medical device PCB layout, manufacturing and prototypes to take healthcare at the next level through advancements in technology.
We excel in providing PCB solution to medical mechanism and industrial fields. We offer medical PCB assembly, medical device PCB design, prototype, medical electronics solution to injection molding, packaging and complete product manufacturing per layout.
We have medical device PCB project experience with: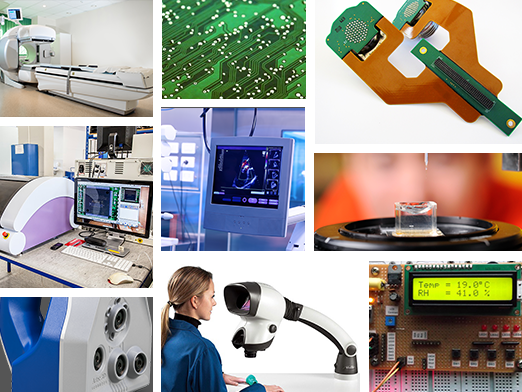 PCB Prototype for Medical Diagnostic Equipment
Flex and Rigid Flex interconnect
Electronic Device Manufacturing for Imaging Systems and Imaging Electronic Devices
Medical PCB assembly and layout for medical motion control systems
Medical PCB assembly, manufacturing, and prototypes for ECG recorders, bio-analytical instruments, dialysis instruments, hearing aids, and more.
PCB Prototype for High tech Temperature Measurement
PCBs Prototype Manufacturing for Optical Instruments
Small Dental Equipment PCB Prototype
2D / 3D Sensor's Printed Circuit Boards
PCB and Circuit Assembly for Dental Instrument and Dental Medical Products
Printed Circuit Boards for Digital X-rays
We have extensive capabilities and latest software platforms for medical PCB layout, assembly, and prototype manufacturing. We have hands on experience in providing custom medical PCB assembly services for projects. We are available to come on site to work directly with your engineering team and assure improved communication between the makers and engineer.

Feel free to request a medical PCB assembly quote or medical PCB prototype quote for your any kind of medical dental PCB prototype, manufacturing or assembly requirements. For more information and to find out how we can assist you, email us your queries at sales@technotronix.us or call us at 714/630-9200.

PCB Assembled in 24 hours
Best Turn around time for Prototype PCB assembly.
Kitted and Turn-Key option as per customers requirement.

REQUEST OUR BROCHURE
To know more about Technotronix
Request Brochure
Please provide your email address. We'll send you copy of our brochure in a PDF format.