Quality PCB
At TechnoTronix we pride ourselves on the consistent quality of the Layout we carry out and ensuring our customers have all the tools and practical support they require to ensure the job is completed on time and budget. Our level of support and service throughout your project is just one reason why our customers return to us again and again.
We are dedicated to satisfying your requirements in every aspect of quality service and for this reason we are able to retain our customer base year on year.
Quality is at the heart of everything we do and we are continuously working to improve the standard of delivering the PCB assembly service to our clients, ensuring an outstanding level of precision and reliability with full audit. Each makers takes ownership for the quality of the work done by them and every stage of the process is subject to rigorous quality assurance procedures.
In addition, our office is approved as a secure layout facility that is cleared to carry out Government contracts. Thus, years of experience and strict control over procedures ensure that all our services conform to the highest standard of quality.
TTI shall:
Strive to manufacture and deliver consistent quality products.
Provide timely feedback to our valued customers.
Impart adequate training to all our employees and motivate them and ensure their total involvement.
Strive for achieving cost effectiveness through process improvements.
Institute a system and measures to monitor quality at manufacturing stage and at consumer end.
Achieve total customer satisfaction with continual improvement in QMS.
Quality Objectives
Customer On-Time-Delivery
> 95%
Customer Satisfaction
> 4.5.
Process Metrics
Sales
Total Orders without complaints ≥ 95%.
Purchasing
Supplier Quality Performance and Supplier On-Time-Delivery Performance > 95%.
Production Control
First Pass Yield Inspection > 95%.
CRX 1000 - X-Ray Machine
We have Photon Dynamics Superior X-ray (SX) Series which provides high-resolution and high magnification X-ray inspection capability in a flexible and compact workstation configuration. With its wide selection of X-ray sources, image intensifiers, sample manipulators and software, the SX Series is made specifically to meet the special nondestructive inspection requirements for today's production, research development and quality assurance departments.
The Quality equipments are equipped with Photon Dynamics' own RTI-580 image processing system, made for processing real-time X-ray images. Powerful and easy to use, RTI imaging systems provide repeatable and accurate results for both production and research applications.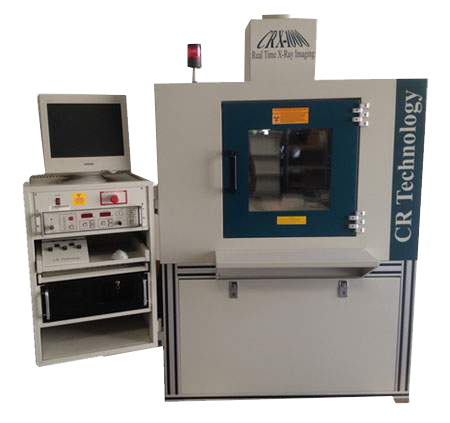 BX Benchtop AOI
Benchtop automated PCB inspection:
Nordson YESTECH's advanced 5 megapixel color camera imaging technology offers bench top PCB inspection with exceptional defect coverage. This bench top system inspects solder joints and verifies correct part assembly enabling users to improve quality and increase output. The optional four side viewing cameras add additional inspection capabilities found only on in-line systems.
Programming the BX is fast and intuitive. Operators typically take less than 30 minutes to create a complete inspection program including solder inspection. The BX utilizes a standard package library to simplify training and ensure program portability across manufacturing lines. Programs created with the BX are also compatible with Nordson YESTECH's complete line of AOI systems.
Advanced Fusion Lighting and newly available 5 megapixel image processing technology integrates several techniques including color inspection, normalized correlation and rule-base algorithms to provide complete inspection coverage with an extremely low false failure rate.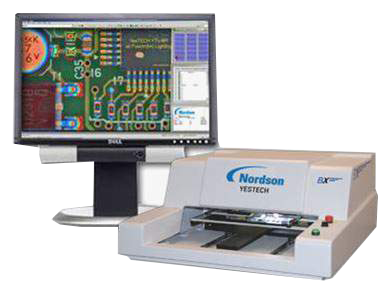 The BX is equally effective for paste, pre / post-reflow and even final assembly inspection. Remote programming maximizes machine utilization and real-time SPC monitoring provides a valuable yield enhancement solution.
Automated Inspection for:

Solder defects

Lead defects

Component presence and position

Correct part / polarity

Through-hole parts

Paste

Contact us at sales@technotronix.us or at 714/630-9200 to get complete solutions for your PCB fab/ PCB Layout or PCB soldering requirements!

PCB Assembled in 24 hours
Best Turn around time for Prototype PCB assembly.
Kitted and Turn-Key option as per customers requirement.

REQUEST OUR BROCHURE
To know more about Technotronix
Request Brochure
Please provide your email address. We'll send you copy of our brochure in a PDF format.