PCB Fabrication
Technotronix is an elite provider of custom PCB fabrication services with its multifaceted group of experts and ample experience in rendering electronics manufacturing services as our competency can be evidenced through our global customer base. Our guaranteed full-fledged PCB fabrication services from product layout, high or low volume manufacturing to warehousing, and delivery have made it possible to have a top-notch customer retention ratio.
We have adopted advanced methods and the latest technologies of PCB fabrication, which can ensure performance. We understand every need of our client and offer multilayer PCBs, quick turn PCB fab, rigid flex PCBs, RF circuit boards, ATE printed circuit boards, metal core PCBs, and more. Our capabilities have expanded in providing quick-turn NPI prototyping, and multi-layer PCB fabrication to our customers when they want to introduce products to the market and require larger quantities in a short period of time.
PCB FABRICATION SERVICES
We understand that different industries demand special capabilities of fabricated PCBs. Here are some of the capabilities:
Shapes:

Circular
Rectangular
Custom
Circuit board base materials:

RoHS compliant
RF and advanced RF
Aluminum clad
Boards type:

Metalcore
Aluminum backed
Rigid, flex, etc.
Multilayer PCB up to 24 Layers
Alternative finishes:

Hot Air Solder Level
Electroless Nickel / Immersion Gold
Silver
Electroless Tin Lead
Organic ( OSP )
Hard Gold ( edge contact )
Carbon
Peelable
Designs:

Countersinks and bores
Controlled dielectric and impedance
Cover coat
Edge mill and Back drilling
Drill:

Small size
Large size
Control depth and positional tolerance
Circuit boards parameters:

Layer count and board thickness
Copper weight
Printed Circuit Board Profiling:

CNC Rout
CNC Score
Pierce Blank & Return
Advanced options:

Carbon mask
Golf fingers and edge plating
Kapton tape
Advance designs:

Blind Vias
Buried Vias
Multilayer design
Stacked micro vias
Certifications:

Certified for military
Certified for aerospace
Certified for other applications, etc.
Bare Board Test:

Bed of Nails
Simultaneous double-sided flying probe test
PCB Fabrication process and technology
The complete process is based on the design package that makes the circuit board in physical form.
The PCB fabrication process includes the transformation of circuit board designs into physical structures based upon the specifications. Generally, the data received in a Gerber file format.
The image data will be transformed to the board by photo tooling and direct imaging method.
Each layer will have to be laser printed individually.
The multilayer printed circuit boards are the composite of different layers of dielectric material and metal conductors.
Multilayer boards are available with a thinner version of the same core structure used in the manufacturing of double-sided printed circuit boards. Each layer must be controlled for copper weight, its width, and layer alignment for the final product.
Now, it is the time for creating the inner layer circuit images onto the inner layer cores.
The photoresist is exposed with either UV light or by direct laser imaging.
After this process, the core layers will be inspected by AOI system for any defects.
Each layer pair will have a sheet of "prepreg" inserted between them to facilitate the layers bonding.
To maintain the right alignment of circuit board on different layers requires a lot of attention. After the sandwiched layers are laminated, the heat and pressure of the lamination process will fuse the layers together into circuit board.
The next step of PCB fabrication is to drill circuit board holes for component mounting, through hole vias, and non-plated holes of mechanical features. That PCB design contains any buried, blind vias, or laser-drilled microvias; those are fabricated before the lamination of board.
Once the holes are drilled, the whole exposed board surface and the holes are chemically coated with a thin copper layer. It will create a metallic base for electroplating.
The solder mask is applied using a UV exposure process to protect the board. The surface finish is also applied to the circuit boards. This helps to protect the exposed metal and assists in soldering operation during assembly.
The last step of the PCB fabrication process is to prepare the board for assembly. The finalized boards are gone through a testing with a flying probe, or a bed of nails test fixture.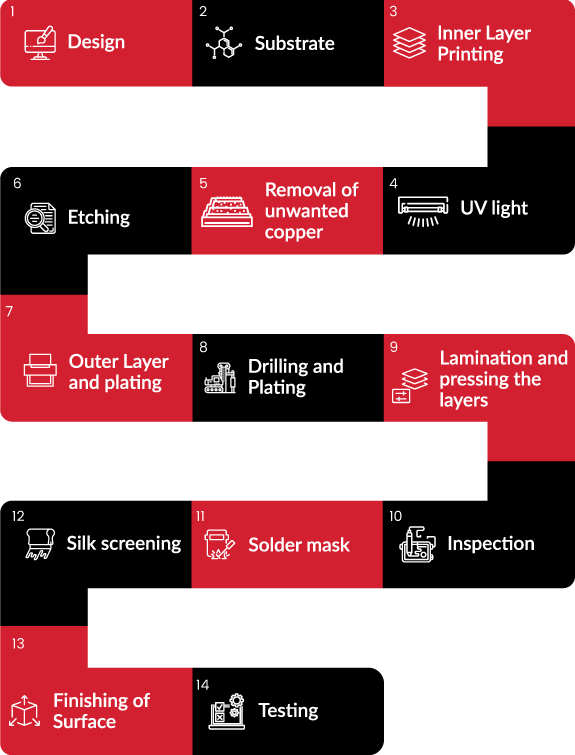 WHY US?
We have over 44 years of experience in delivering printed circuit board fabrication services.
We have a state-of-the-art manufacturing unit to fabricate circuit boards, assemble any components, and build prototypes.
Your satisfaction is our priority.
We have ISO 9001:2015 and ISO 13485:2016 quality management system to offer standard & quality services in various industrial sectors including medical, aerospace, electronics, defense, telecommunication, renewable energy, and more.
We offer quick turnaround based on requirements from the client which will depend on the go-to-market plans.
We considered the security and safety concerns of industry and carried out the solution based on industrial standards and guidelines!
PCB fabrication is the process of preparing bare boards into a form or structure as per design files and specifications; and making them ready to assemble.
Yes, we run the PCB fab production with consideration of capabilities and technical expertise.
Yes, based on customers' request; we provide solder samples.
Yes, we provide test certificates with boards based on request.
Yes, we give COC (Certificate of Conformance) with packing slip (Based on request).
Our standard turnaround for production quantity is 4-6 weeks depending on materials availability.
Once we receive all the details about your quote, we will check material availability, complexity of design, and quantity. Based on all requirements, we provide the quote with a specific lead time to the customer.
Mostly we provide green color. Also, we provide black, red, and blue colors as per the customer's requirement.

Looking for PCB fab? Use PCB Fabrication quote request form and submit information. Alternatively, you can also email us BOM & Gerber files along with volume and type requirements. You can email us on sales@technotronix.us or call us on 714/630-9200 in case any other clarification is required.

PCB Assembled in 24 hours
Best Turn around time for Prototype PCB assembly.
Kitted and Turn-Key option as per customers requirement.

REQUEST OUR BROCHURE
To know more about Technotronix
Request Brochure
Please provide your email address. We'll send you copy of our brochure in a PDF format.