PCB Manufacturing
We are a leading PCB manufacturer based in Anaheim, California, USA. We have over 44 years of experience in delivering advanced PCB manufacturing services using the latest PCB technology and machinery. We strictly adhere to ISO 9001:2015, ISO 13485:2016 & AS9100 Rev. D certified quality management system. We fulfill the varied requirements of our customers from simple to complex circuit board manufacturing!
We have a state-of-the-art manufacturing unit and an experienced team to deliver high quality and standard PCB manufacturing service. We serve various industries including Aerospace, Defense and Military, Telecommunication, Medical, Renewable Energy, and more. We have developed a reliable and hassle-free process from initial inquiry in-house manufacturing, testing, quality control, supply chain support to meet the customers' demands.
As a custom PCB manufacturing service provider, we manufacture bare boards and circuit boards of various sizes, technologies, types, and complexities!

Experience you can rely on

Flexible Approach
We offer reliable PCB manufacturing service from inquiry to final delivery. As a leading Printed circuit board manufacturer in USA, We ensure to meet the custom demands of our clients with flexible approach.
We offer a flexible approach for manufacturing PCBs and their deliveries. Success relies on quick trustworthy communications. We designed up front to be readily adapted to changes in the type and quantity of goods being produced.

Quick and Reliable
Being quick is essential into our business model. As a specialized PCB manufacturer in California; You can rely on us for a high-quality bare boards and custom circuit boards that's on time and within cost. We handle basic through hole to standard surface mount PCB manufacturing. Get in touch with us for your any type of custom circuit boards requirements!
Being quick is essential to our business model. As a specialized PCB manufacturer in California, you can rely on us for a quick turnaround and cost-effective solution.
Our quality certifications include
ISO 9001:2015
ISO 13485:2016
AS9100 Rev. D Certified
IPC-A-610 CLASS 1-2-3
J Std 001E Class I, II, and III
PCB Manufacturing Core Competencies / Capabilities
New Production Introduction (NPI)
High mix low volume circuit board production
Mass production (high volume low mix)
Placement capability for package components
Package on Package (PoP)
Flying Probe and In Circuit testing
Through Hole Technology – Selective Soldering/Wave Soldering
Box build and system assembly
Coating/Potting
Final Packaging and out of the box experience
PCB Manufacturing Process and Technology
PCB Design and Layout
Production preparations
Inner Layer Imaging
Inner Layer Etching
Inner Layer AIO
Lamination
Drilling
Electroless Copper Deposition
Horizontal Electrolyte Plating
Outer Layer Imaging
Graphic Plating
Outer Layer Etching
Solder Mask
Surface Finish
Profile
Electrical Testing
Final Visual Inspection
Package & Delivery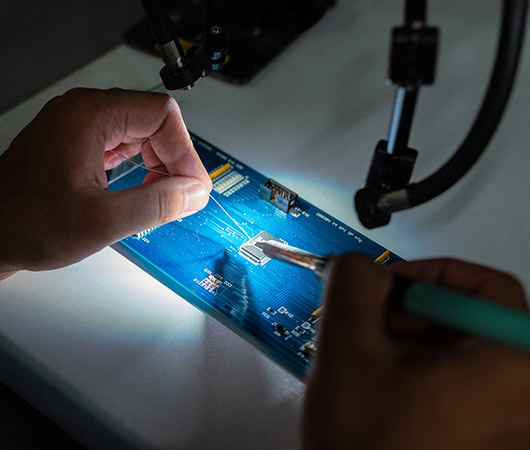 Why Choose Technotronix as your PCB Manufacturer in USA?
With our PCB manufacturing capabilities and the newest technologies, we ensure that our customers will get what they want and when they want. Whether it is rapid delivery, mass production of advanced technology PCBs or a competitive price, we can help you.
One-Stop Service, from design to final product.
Design for manufacturing and design for test available.
Professional and thoughtful technical support.
100% quality guarantee & best turnaround.
Lead free, RoHS compliant material can be available based on customer requirements.
Printed Circuit Board Manufacturing Service
PCB manufacturing is the process of creating a circuit board structure from a design based on the specific requirements.
PCB manufacturer is the one who has the capability to manufacture and assemble the circuit boards, assemblies, box builds and more from initial concept to fully functional PCB.
Well, the cost can vary depending on design, complexity, client's requirements, number of layers, materials, type of manufacturing, and components availability.
Our PCB manufacturing capabilities include NPI, mass production, PoP, through hole PCB, coating and potting, box build, system assembly, flying probe and circuit testing, and more.
We manufacture PCBs with different kind of surface finishes such as HASL / Lead free HASL, Immersion Tin, immersion Silver, OSP, Electroless Nickel Electroless Palladium Immersion Gold (ENEPIG), Gold, and more based on custom specification and requirements.
Our fastest lead time for manufacturing service is 24 hours.
To start PCB manufacturing, we would require various design files including Gerber Files, Bill of Materials (BOM) file, Assembly drawings, Preliminary files or any other special requirements file.

Submit PCB manufacturing quote form. Alternatively, to send BoM, Gerber files, and other required details, reach out at sales@technotronix.us or 714/630-9200.

PCB Assembled in 24 hours
Best Turn around time for Prototype PCB assembly.
Kitted and Turn-Key option as per customers requirement.

REQUEST OUR BROCHURE
To know more about Technotronix
Request Brochure
Please provide your email address. We'll send you copy of our brochure in a PDF format.