PCB Assembly
Printed circuit board assembly is the complete board with all the soldered & installed components. We use surface mount (SMT), through hole and mixed technology to manufacture consigned printed circuit board assembly, turnkeys, board types with metal cores, etc. as per requirements. Our PCB assembly services range from prototypes to large production orders.
We cater to the tailored requirements of our clients whether their needs are a quick turnaround prototype or mass production with our prospered craftsmanship.
We provide a broad product mix from manufacturing sky-scaping count, back panels to layout including blind, micro, and buried vias.
As a leading printed circuit board assembly manufacturer in California, USA, we use advanced technology to take control of the plenary process. We maintain in-house PCB assembly manufacturing services to provide complete PCB solutions. Our PCB manufacturing and assembly process follows international quality standards. PCB assemblies are the core of any electronic devices. Following are some of the benefits of PCB assemblies:
Capabilities of Printed Circuit Board Assembly
Technotronix takes care of customers' choices. Here are the capabilities that we deliver:
Assembly types:

Surface mount (SMT)
Single & double-sided SMT/PTH
Mixed technology (SMT/Through-hole)
Large parts on both sides
Quality checking:

AOI checking
Visual inspection
BGA Placement- X-Ray checking
Times:

Scheduled deliveries
1-2 weeks
4-7 days
Parts Procurement:

Turnkey
Biased Turnkey
Kitted/ Consigned
Alter/Rework:

Ball Grid Array replacement station
IR rework station
Stencils:

Nano-coating
Laser-cut stainless steel
Components:

Passive components
Connectors
Terminals
Board Type:

Rigid
Metalcore
Flexible
Rigid-Flex
Benefits of PCB Assemblies
Compact Size
Copper tracks are more used in PCB than wires, making inside connections less heavy. Although the size of PCB assembly depends on the request from client.
Save Time
Our PCB assembly process from procuring components, materials, production coordination, inspection between process and final testing will result in saving overall time.
Cost Effective
We provide in-house testing or inspection for any kind of requirements of PCB assembly which allows customers to save the cost of separately testing PCBs somewhere else and ensuring quality. This is cost-effective in mass production PCB assembly requirements.
Low Noise
This improves reliability in devices as heat overcomes electrical noise.
Single-sided PCBs – These are the simplest type of PCBs which are used in simple systems. They contain only one layer of base material. Copper is used to cover that layer. The solder mask protects the copper layer.
Double-sided PCBs – These contain layers on both sides. Double sides are used to attach the metal areas. Surface mounting is more efficient than Through-hole mounting to attach more circuits.
Multi-layer PCBs – They have many copper layers but not less than two like 4 layers, 6 layers, and up to 12 layers. Circuit boards are compact. These are more flexible as they provide sufficient weight and space.
Rigid PCBs – These bases consist of hard solid materials, and the signal paths are well arranged. They are inflexible. Mainly used in the motherboard, aerospace, etc.
Flexible PCBs – These bases are made up of flexible materials. They reduce complexities and circuit board weight. They require less space. The correct temperature and density are required due to the flexible nature of circuit boards.
Rigid-flex PCBs – These are the combination of Rigid and Flexible PCBs. They consist of many layers of flexible circuits that are connected to the rigid boards. They are light weighted.
PCB Assembly Process and Technology
The entire process and functions are done by several processes, as mentioned below:
THT (Through-hole technology) assembly process
In this process, holes are made into PCBs. Then, pin-through-hole components are inserted into it. These can be done by soldering.
These include the following steps:
Step 1 – Placements of components
Check the client's circuit board design documents and accordingly organize and fix all the components.
Step 2 – Checking and rectification
After step 1, plug boards and components together. In case of any issues, it will be fixed by soldering method.
Step 3 – Soldering
Wave soldering is done at a high temperature and by moving the circuit boards in the liquid solder via waving.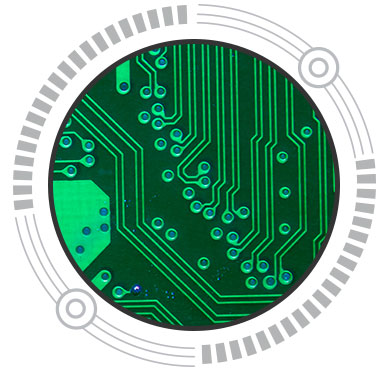 SMT (Surface-mount technology) assembly process
Using solder paste, components are placed in circuit boards.
The following steps are needed in SMT:
Step 1- Printing
A solder paste printer is required to solder paste on components and boards. Use stencil to ensure it is done properly or not.
Step 2 – Mounting
After the solder paste printing, the PCBs are sent to the pick and place machine automatically for mounting components and integrated circuits on the pads with the solder paste effect. After that, the component reels are required for the installation of components onto the PCB boards.
Step 3 – Soldering
Reflow soldering is done at high temperatures. Circuit boards are placed in an approx. 22-foot long furnace.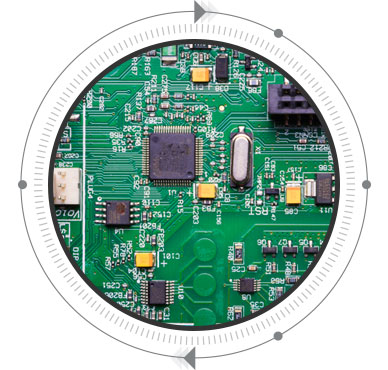 Mixed Technology assembly process
Single side mixed
All these procedures like printing using solder paste, placement of SMD parts, reflow soldering, wave soldering, and placement via through hole technology are necessary to do.
Among the two sides, SMT One is THT
For the best results, there are a few procedures that must be followed like surface mount adhesive, SMD parts placement, flipping, solidification, wave soldering, and PTH placement.
Double side mixed
Surface mount adhesive is the optional step.
In the double-sided mixed PCB assembly, it is processed in both ways with or without adhesive. Surface mount adhesive is an optional step based on requirement. All other steps of single side and between the two sides are used.
Download the Comprehensive Guide for Printed Circuit Board Assembly Process!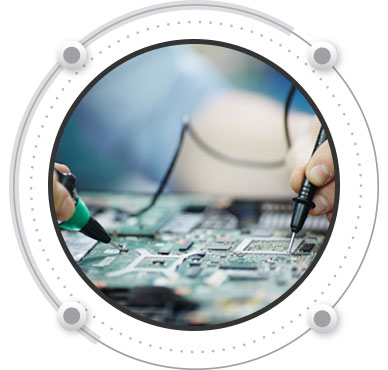 WHY US?
40 Years of experience
We have more than 40 years of experience in delivering printed circuit board assembly services. We will deliver what you want within the defined time.
Quality guarantee
All PCB assemblies are gone through rigorous testing and inspection such as ICT, X-ray, functional testing, AOI and more. It allows us to assure the quality of PCB assemblies.
Fast turn PCB assemblies
Generally, for standard projects, our lead time is 1 to 5 days, and for complex projects, our lead time varies from 1 to 2 weeks. Although we can deliver PCB assemblies in the requested turnaround for any urgent order from a client.
Custom PCB assembly services
We understand all the PCB assembly requirements vary across different industries. We deliver PCB assemblies based on industrial requirements whether it is for electronics, military and defense, medical, aerospace, telecommunication, or any.
Low volume, prototype, and high-volume PCB assemblies
Whether you require low volume, prototypes, or high-volume PCB assemblies over 10,000 pieces, we work on all types of projects.
PCB assembly is the process of assembling a complete board with all the electronic components including resistors, diodes, transistors, etc.
Yes, we offer 24-hours quick turn PCB assemblies without sacrificing the quality of the board.
Yes, we can install BGA (BGAm, MBGA, LGA).
Yes, we always inspect using X-Ray.
Yes, we offer both RoHS or leaded compliant assembly.
Yes, we offer a conformal coating service. (Most of the acrylic based we do in house)
Yes, we offer it based on the client's requirements.
Yes, we use IPC 610 or J-STD Quality Inspections as per client requirement.
Yes, we can work with Blanket Order.
Yes, we work with the Kanban system.
An allocated quotation cancellation fee will be charged for cancelled orders which depend on the PCB manufacturing, assembly or fabrication status at a time of cancellation.
Read our terms & conditions
.
Well, the PCB assembly cost depends on the PCB parts type, total parts on a PCB, order quantity, labor cost, stencil, turnaround, packaging of the parts, and more. Once we receive your order, we will let you know the exact cost.
Yes, We provide custom finishes such as OSP, ENIG, ImAg, ENIG etc. for PCB assembly based on your requirements.

Looking for PCB assembly services? If you require custom and quick turnaround PCB assembly for your industrial requirements, please use the PCB assembly quote request form and submit information. Alternatively, you can email us BOM and Gerber files along with the information about volume, type of assembly, and testing requirements at sales@technotronix.us or call us on 714/630-9200 in case any other clarification is required.

PCB Assembled in 24 hours
Best Turn around time for Prototype PCB assembly.
Kitted and Turn-Key option as per customers requirement.

REQUEST OUR BROCHURE
To know more about Technotronix
Request Brochure
Please provide your email address. We'll send you copy of our brochure in a PDF format.