Metal Fabrication
As a leading PCB manufacturing company, Technotronix provides a wide range of metal fabrication services with the latest technology and state-of-art equipment. Our fabricators and engineers provide a quality solution to any design and specification. To ensure a successful end design and precision metal fabrication service, we use a wide variety of different metal materials including aluminium, mild steel, carbon steel, stainless steel, copper, bronze, brass, and more to produce a quality product for your project.
With our offshore manufacturing facility and capabilities, we can manufacture and export any type of metal components, turned parts, electrical components and extrusion products based on custom requirements, specification and drawings.
Custom Metal Fabrication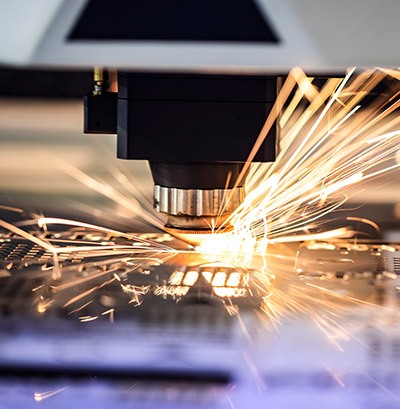 We are confidently providing customized metal manufacturing solutions for a wide range of precision metal manufacturing needs. Our engineers and experts provide the best fabrication solution based on custom product sample, drawing and specification. We also assist you from the start of design to product completion. Our Metal Fabricators team expertise to enhance any custom design and specification for optimum production efficiencies. To meet exact requirement our customer, whether it's a simple or complex product, we offer custom metal fabrication service including:
Metal Fabrication Design
Metal laser cutting
Metal casting
Metal bending
Metal welding
Metal forging
Prototyping
Metal Hydroforming
Metal stamping
Metal punching
Metal shearing
Metal machining
Metal Polishing
Metal Fabrication Services & Capabilities – Metal Components
Technotronix works with clients for the design, manufacturing and fabrication of fasteners includes screws, bolts, nuts, rivets, washers, spacers, standoffs and more for small individual parts to large assemblies. Along with fasteners, we have the capability to design and build any type of metal components, electrical components, metal turned components, metal turned parts and more. We offer complete turnkey metal fabrication solution.
To meet your required standards of metal fabrication, we work high-quality materials. We adhere to all national and international standards for the manufacturing of all types of parts, components, and assemblies. Following are the most common available raw materials used in manufacturing & fabrication:
Carbon steel
Stainless steel
Steel
Aluminum
Iron
Brass
Bronze
Copper
We offer MIG or TIG welding for any weldable alloy. You can also rely on us for dependable metal forming. With expert finishing & assembly, we can ensure that your parts match the exact requirements and custom specifications. Our finishing options include natural finishing, painting, galvanizing, anodizing, & many other multiple options.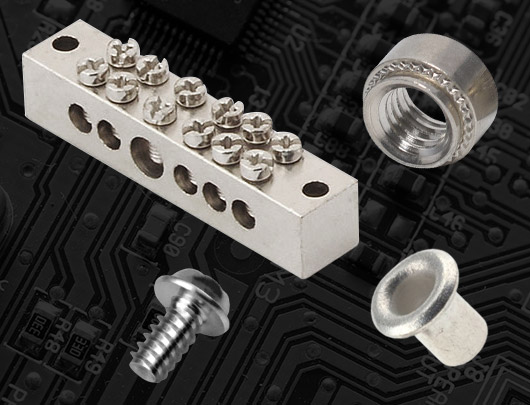 Benefits of Metal Fabrication
There are a number of benefits that come with trusting us to meet your metal components manufacturing requirements. Here are some of the main benefits:
Highly Durable
Extra Strong
Heat resistance
Aesthetic Quality
Cost-efficiency
Versatility in fabrication
More flexibility
Light final product
Enhanced appearance
Boost Profits with Lower Manufacturing Costs
We work with you to reduce overall manufacturing costs, which results in more profits. During the design process, our engineers can help uncover weaknesses without the need for expensive prototypes. We help cut costs while delivering large production of metal components, electrical components, fasteners, turned parts and more.
Meet the International Standards for Metal Components
Customized fabricated metal components, fasteners and parts often need to comply with specific industrial compliant standards, which can vary across regions. To meet the national or international standards, work with a team that has global experience and resources. We adhere to all international standards for the fabrication and manufacturing of all types of parts, components, and assemblies.
Application of Metal Fabrication
Fabricated metal components are highly portable, malleable and withstands high pressure, all these advantages make it most suitable for any small or large industrial application. Here are some minor and major applications of metal fabrication in everyday life.
Automobile bodies
Agriculture
Aircraft
Building and Construction
Consumer Products
Manufacturing
Tools and hardware
Smartphone and laptop shells
Electronics gadgets
Aerospace industry
Medical industry
Marine
Railway
Telecommunications
You can rely on us for short-run or high-volume fabrication and manufacturing. We also provide world-class precision components, custom fasteners, parts, products and quality assurance.
An Experienced Metal Fabrication Company
We pride ourselves to offer a wide range of metal fabrication service in California. Therefore, we are capable of meeting the needs of our customers in the metal forming. Whether you are looking for fabrication service for industrial application or various PCB design, here we provide a vast range of industrial and specific fabrication solution that makes your fabrication plans a reality.
As a U.S. based leading metal fabrication company, we treat each project as if it's our own and strive to deliver the best possible results every time. We offer,
Offshore Metal Fabrication Services
Custom Metal Fabrication
Trusted & Professional Metal Fabrication Service
Better Quality Products
Quality Finishes
Value added assembly services
Packaging and Delivery
Competitive pricing
Metal Fabrication is a process to build the product from common manufacturing process include welding, bending, milling, forging, stamping and others. Each of these metal fabrication processes use a different type of machine to transform metals into a particular shape.
Metal components are the components or parts which are manufactured from the various metals such as steel, brass, bronze, stainless steel, copper, aluminium or any. We can manufacture and export various types of metal components, electrical components, turned parts, neutral links, extrusion products and more!
Our state-of-art offshore manufacturing facility with advanced machinery and latest technology made possible to fulfil your any custom requirement without compromising to highest quality standards! We work with various metal material to meet all industrial and special requirements of metal fabrication. We offer all type of raw material for custom metal fabrication such as brass, aluminium, copper, bronze, steel, stainless steel and many more.
Our range of metal components include fasteners, brass components, metal turned parts, electrical components, precision turned components, sheet metal components, hardware components, custom metal components and many more. If you have any requirement, feel free to
request a quote
!
Our offshore manufacturing for extrusion products includes extruded rods and bars, hollow rods & profiles, ingots, billets, extruded flats, sections, casting & more. If you have any requirement, feel free to
contact us
!
As a leading metal fabrication company, we provide all types of brass components to fulfil varied industrial and general application. Our complete range brass components cover electrical components, auto parts, fasteners, tuned parts and custom brass components. If you have any type of custom requirements or drawings, feel free to
request a quote
!
We have an offshore manufacturing facility to produce medium to large production requirements. Our MOQ requirement depends of various factors such as what type of components do you require, what is the size of required parts or components, weight of total ordered metal components or any other required customization. Feel free to
request a quote
and we will get back to you as soon as possible!
Yes, we provide special finishing service for your metal components. We provide smooth and quality finishing with our comprehensive surface finishing capabilities to ensure that our surface finishing process meets all your specifications and maximizes effectiveness. We ensure the quality of all our work and results.
Some of them include:
Powder Coating
Silk Screening
Anodizing
Electroplating
Thermal Spraying
Dip Coat Painting
As an ISO 9001:2015 certified company, the quality of the product is our first priority. From planning to production our experienced team execute and inspect the standard manufacturing process. Along the way, at every level, our team check and offer a suggestion for correction and improvement of process performance in the fabrication of customers' product.
Our metal fabrication lead times will vary and are dependent on numerous factors such as material availability, the complexity of the product, size of the order, offshore-manufacturing time, etc. After receiving your requirement, we provide the estimated production and delivery time.
Our offshore manufacturing facility can fulfil your any kind of custom requirements for metal components. There are wide range of different processes which involved in the metal fabrication process, depending on the required outcome but the most commonly used are cutting, burning, welding, machining, forming, assembly and more to create the final product.
Custom metal fabrication has allowed custom service such as material, design, process and more. Custom metal fabrication is a fast, flexible, durable and reliable process help to develop better and enhanced products.
Fill this
Request a quote form
with all the required information with drawings; we will check it and get back to you with a quote as soon as possible. If you have any query or questions, feel free to
contact us
.

Do you have any Metal Fabrication requirements? Request a free Metal Fabrication Quote. Alternatively, email BoM, Gerber files, and other required details at sales@technotronix.us or call us 714/630-9200.

PCB Assembled in 24 hours
Best Turn around time for Prototype PCB assembly.
Kitted and Turn-Key option as per customers requirement.

REQUEST OUR BROCHURE
To know more about Technotronix
Request Brochure
Please provide your email address. We'll send you copy of our brochure in a PDF format.