PCB Industrial Solution
Technotronix is one of the leading EMS providers for contract manufacturing of complex and technologically advanced industrial products. We provide end to end PCB industrial solution, superior process control and manufacturing excellence. We hold certifications in a number of industrial standards and regulations like ISO 9001:2015, ISO 13485:2016, AS9001 Rev D, ANAB Accredited, RoHS Compliance and more.
The frequency of printed circuit boards in our daily lives has continued to expand. Technotronix brings innovations for tomorrow. Printed circuit boards play an important role in every industry. At Technotronix; we provide solution for a variety of industries' unique needs by offering quality PCB assembly and electronics manufacturing services. We work at different stage including injection molding, circuit board design, product design, prototyping, quality inspection and final production to deliver PCB industrial solution.
Industrial PCB Capabilities
New Production Introduction (NPI)
High Mix Low Volume Circuit Board Production
Mass Production (High volume Low Mix)
Placement capability for package components
Package on Package (PoP)
Flying Probe and In Circuit testing
Advanced PCB testing
SMT PCB assembly
Through Hole Technology
Selective Soldering/Wave Soldering
Box Build and System assembly
Coating/Potting
Final Packaging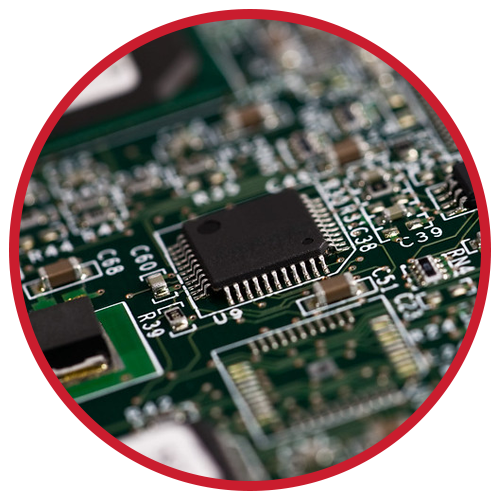 PCB Industrial Solution FAQ
s
PCB industrial solution is the printed circuit boards or the internal components which mechanically supports electronics parts and PCB industrial solutions are made for the various industrial applications.
There are various types of industrial printed circuit boards including single layer PCB, double layer PCB, multilayer PCB, rigid PCB, flexible PCB, rigid flex PCB and more.
There are various types of industrial PCB materials available including FR-4 Fibreglass, PTFE (Teflon), Metal, Ceramic, Rogers, Polyimide and many more. The selection is depending on the type of application for which PCB is required.
A BOM term is used for Bill of Materials, which is a list of the parts and components to make industrial PCB.
Yes. We do offer RoHS compliant PCB assemblies.
We offer X-ray testing, functional testing and in-circuit testing and inspection services. We also do Automated Optical Inspection (AOI).
Well, we can provide any type of industrial PCB assemblies in 2-3 business days. Although it would be depended on PCB material availability, design complexity, quality and quantity of your requirements. Feel free to let us know if you require any type of industrial PCB assembly and prototypes.
All you need to do is to select the preferred option from our
PCB service quote
; fill up all the required details and submit the industrial PCB quote request form. Or you can also do an email at
sales@technotronix.us
with all the information about the quote. We will get back to you as soon as possible.