pcb fabrication capabilities california
When it comes to creating a robust electronic product, the one thing that is extremely important, is to choose the right PCB assembly fabrication solution. On the other hand, lack of attention to the quality of your boards can result in costly mistakes, product failures and even lack of company reputation.
To be able to gauge the full import of this, it will be important to learn what really does Printed Circuit Board Fabrication involve and what is its importance in PCB development.
What does PCB Fabrication Process mean?
Even before defining circuit board fabrication, let us look at some of the other terms that are commonly associated with the PCB development process and understand the interrelationships between them.
PCB Development
First up, let us look at the term PCB development. This is really the process of developing the PCB from the design stage to the production stage. Essentially this involves the processes of:
Design
Manufacturing
Testing
PCB Manufacturing
The other term commonly used is PCB manufacturing. This really is a two-step process comprising of:
Fabrication of PCB
PCB Assembly
PCB Testing
A crucial step post PCB Manufacturing, this is required to ensure that any errors are identified and changes required can be made so that there is no issue faced at a later date.
PCB Assembly
This step involves mounting the components on the bare board. This could be through a process of through hole or surface mount technology or even by way of a mix between the two.
The PCB Fabrication Process
With these terms clarified, let us move to the PCB Fabrication process. This is the process where the PCB design is converted into the physical structure. PCB Fabrication involves the following:
Imaging the layout on the copper clad laminates
The next step is to etch the excess copper
Laminating board materials and creating PCB layer stackup
Drilling holes
Etching of copper, this time from the surface layers
Plating pin holes and via holes
Solder masking
Silkscreen printing reference
Adding the requisite finish
There are also a number of printed circuit board fabrication methods, primary among them being:
Etching- This is known to be easy and cost-effective as it uses chemical solutions to remove unwanted areas from the board.
Manual- In this method a manual design is drawn onto the board.
Photographic- In this method, a drawing made of photoresist material is projected onto the board.
Direct etch- Here a design is printed on a laser printer. This is in turn ironed on to the circuit board.
Silkscreen- This involves the use of photosensitive material.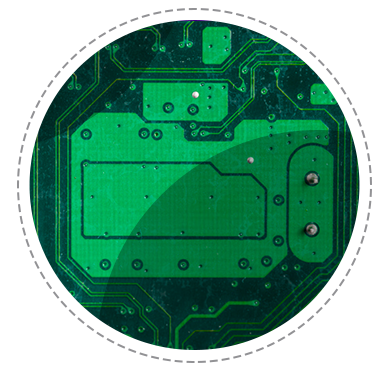 It is extremely important to understand the PCB Fabrication process as it is an outsourced activity that a Contract Manufacturer performs for you as per the specifications provided by you. In many cases the contract manufacturer does not have access to the intent behind your design as well as the choice of material, layout etc. that is made by you. All of this, in turn, impacts the following:
Manufacturability - Simply put this follows from your design choices. For example, at the design stage you need to ensure that there are enough clearances between surface elements, the material selected has high Coefficient of thermal expansion, and more.
Yield Rate - If you specify parameters that stretch the tolerance of the equipment, you could land up in a situation where a large number of boards are not usable.
Reliability - It is important that your board's construction meets the specified levels of reliability. For rigid boards, for example, there are 3 classification levels set. If the board does not meet the level of reliability desired, it could lead to inconsistencies in operation and even failure.
We endeavor to deliver following PCB Fabrication capabilities & core competences:
New Production Introduction (NPI)
High Mix Low Volume Circuit Board Production
Mass Production (High volume Low Mix)
Placement capability for package components
Package on Package (PoP)
Flying Probe and In Circuit testing
Thru Hole Technology – Selective Soldering/Wave Soldering
Box Build and System assembly
Coating/Potting
Final Packaging and Out of the Box experience
Multilayer PCB
Quick Turn PCB Fabrication
Prototype PCB Fabrication
LED Circuit Boards
High Frequency PCBs
Rogers PCB
High Temperature PCB
Metal Core PCB
RoHS Circuit Boards
Bare Board Printed Circuit Boards
Rigid Flex PCBs
Flexible Circuit Boards
Rigid Printed Circuit Boards
Rapid Printed Circuit Board Prototype
RF Printed Circuit Boards
With detailed knowledge about the PCB Fabrication process and PCB fab capabilities of the manufacturer, you will be able to make your design choices with caution as these choices will have far-reaching consequences in PCB development and production. It is imperative that the Design for Manufacturing guidelines be followed so as to ensure that you do not run into any problems at a later stage. This will also ensure that any delays as well as any unforeseen costs are avoided.

Do you have any PCB Fabrication Capabilities requirements? Request a free PCB Fabrication quote. Alternatively, email BoM, Gerber files, and other required details at sales@technotronix.us or call us 714/630-9200.

PCB Assembled in 24 hours
Best Turn around time for Prototype PCB assembly.
Kitted and Turn-Key option as per customers requirement.

REQUEST OUR BROCHURE
To know more about Technotronix
Request Brochure
Please provide your email address. We'll send you copy of our brochure in a PDF format.