PCB Prototype
Electronics Manufacturing Services
One of the in house PCB prototype marvels, TechnoTronix facilitates PCB assembly services with no fuss, simple and fast prototyping with a unique way of using advanced techniques like automated layout analysis, algorithms and custom technical specimens depending on the Gerber file and BOM ( Bill of Materials ) required for a particular prototype.
Our quick turn custom prototyping services and inclination fetches quick turnarounds which puts our clients in command of their projects. Adapting a full fledge inspection system and pre- production check to authenticate the prototype quality to make prototypes ready to iterate has been our bonanza.
Our flexibility reaches to providing full or partial turnkey as well as consigned PCB assembly with custom prototyping services. To solve the problems pertaining to low volume and highly complex assemblies, we acute Flying Probe Testing. This helps us detect the missing components and validate the component placement. Securing prestige with our clients was possible by offering high tech PCB prototyping services like multi layered quick turn prototype, combined surface mount, chip-on-board (COB) and many other custom prototypes for aerospace, defense, telecommunication, medical and other varied industries.

PCB Prototype service - 2 layers
Tin Lead Reflow (or Silver) (or Gold) No Silkscreen No Solder mask 23 Preset Drill Sizes up to 200pc PCB prototype

PCB Prototype service - 2,4 and 6 layers
SMOBC (HAL) (or Lead Free Silver) (or Gold) + Silkscreen + Soldermask 23 to 24 Preset Drill Sizes up to 200pc PCB prototype
Preset Board Features
2-6 layers up to 200pc.
Industry standard 0.062" FR-4 laminate.
Standard 1oz. finished copper weight.
Minimum trace & space to guarantee manufacturability .006 Inch.
Smallest board dimension .35 inch in one direction; (square board = .64 x .64.)
Maximum board size is 12 x 14 (to 168 sq-inches)
Tin lead or Silver finish or Gold finish
24 drill sizes available (finished size after plating):.008, .014, .020, .025, .029, .033, .036, .040, .043, .046, .053, .061, .067, .080, .087, .093, .100, .110, .125, .141, .151, .167, .193, .251 (.008 available with 4 and 6 layer only)
Green soldermask over bare copper (SMOBC) Hot Air Level (HAL).
1 or 2 sided silkscreen (also known as "legend" or "nomenclature").
Lead-Free RoHS Compliant Board option available on every service type with no added lead-time or added costs!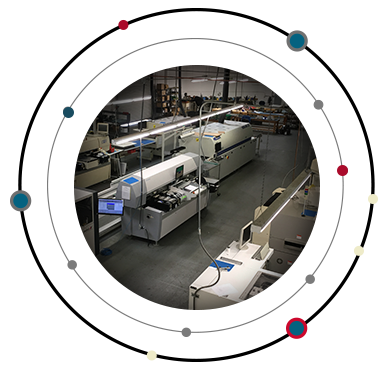 To get an exact PCB Prototype for your new product, remodeling or for other novelties, contact us at sales@technotronix.us for further info and quotations!
PCB Assembled in 24 hours
Best Turn around time for Prototype PCB assembly. Kitted and Turn-Key option as per customers requirement.