PCB Prototype
One of the in-house PCB prototype marvels, Technotronix facilitates PCB prototyping services with no fuss, simple and fast prototyping with a unique way of using advanced techniques like automated layout analysis, algorithms & custom technical specimens depending on the Gerber file and BOM (Bill of Materials) required for a particular prototype.
PCB prototype is the basic sample of product that is built with the primary aim of testing the functionality of the design ideas. Our experience in this genre allows us to build PCB prototypes in just 24 hours.
Technotronix tests the designs deeply to assure the best PCB prototype for the required application. The prototype PCB boards are considered to get the rework if it is needed. For PCB prototyping, our experts use advanced techniques and equipment. We strongly focus on our client requirements and product quality.
Our quick turn custom prototype circuit board services ensure to deliver it withing the timeframe provided by client for their prototype products. Adapting a full-fledged inspection system and pre-production check authenticate the PCB prototype quality to make it ready to iterate has been our bonanza.
Technotronix facilitates the best prototyping service for your well functioned products. We assure you to deliver high-quality circuit boards by providing custom prototyping services with the multilayered quick-turn prototype, chips, testing, and others. Our focus is to fulfil every requirement of multiple industries like Defense, medical, aerospace, electronics, renewable energy, telecommunication and more.
Our flexibility reaches to providing full or partial turnkey as well as consigned PCB assembly with custom PCB prototyping services. To solve the problems pertaining to low volume and highly complex assemblies, we acute flying probe testing. This helps us detect the missing components and validate the component placement. Securing prestige with our clients was possible by offering high tech PCB prototyping services like multi layered quick turn prototype, combined surface mount, chip-on-board (COB) and many other custom PCB prototypes for aerospace, Defense, telecommunication, medical, electronics, renewable energy, and other varied industries.

PCB Prototype service - 2 layers
Tin Lead Reflow (or Silver) (or Gold) No Silkscreen No Solder mask 23 Preset Drill Sizes up to 200pc PCB prototype

PCB Prototype service - 2,4 and 6 layers
SMOBC (HAL) (or Lead Free Silver) (or Gold) + Silkscreen + Soldermask 23 to 24 Preset Drill Sizes up to 200pc PCB prototype
Preset Board Features
2-6 layers up to 200pc.
Industry standard 0.062" FR-4 laminate.
Standard 1oz. finished copper weight.
Minimum trace & space to guarantee manufacturability .006 Inch.
Smallest board dimension .35 inch in one direction; (square board = .64 x .64.)
Maximum board size is 12 x 14 (to 168 sq-inches)
Tin lead or Silver finish or Gold finish
24 drill sizes available (finished size after plating):.008, .014, .020, .025, .029, .033, .036, .040, .043, .046, .053, .061, .067, .080, .087, .093, .100, .110, .125, .141, .151, .167, .193, .251 (.008 available with 4 and 6 layer only)
Green soldermask over bare copper (SMOBC) Hot Air Level (HAL).
1 or 2 sided silkscreen (also known as "legend" or "nomenclature").
Lead-Free RoHS Compliant prototype PCB board option available on every service type with no additional lead-time or no additional costs!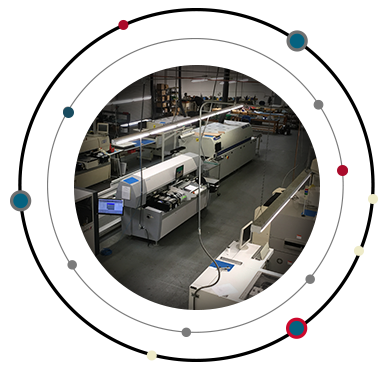 Capabilities of Printed Circuit Board Prototypes
Technotronix provides you the finest PCB prototypes at pennyworth prices with the following capabilities:
The thickness of the board - 0.4mm to 2.4 mm
Dimensions of the board- Depends on the demand
Hole size (minimum) - 0.2mm to 0.3mm
The thickness of copper - 35μm, 70μm, 105μm
Solder mask as per color requirement
Angular ring (minimum)
Silkscreen - Black, White
Drill file- Depends on the circuit design
Impedance control- 25 Ω to 120 Ω
Kapton tape thickness- 0.07 mm
Press-fit hole- Depends on the design
Gold fingers
UL and date code marking
Benefits of PCB Prototypes
Testing components
Prototype PCBs are used for testing each component and detect the problems early. Firstly, engineers check the theories of testing and try to analyze the problem. After that, solve the complexity of the design by testing.
Reduced cost
Designing helps to save the extra cost. If any problem is found earlier, then there is no chance of error in the desired product. PCB prototyping solves the flaws in the design, can adjust the number of materials, and make it better in terms of functionality.
Time-saving
If any issues can be detected during the PCB prototyping, then you can save time. Without doing PCB prototype testing, many problems can occur later. We are using few testing methods of PCB prototypes to rectify the errors before final delivery.
Efficient final product
All the problems can be solved earlier by PCB prototypes that result in the desired product. The final product performs efficiently.
Printed Circuit Board Prototype Classification
There are various stages and methods to test your PCB prototype. Types that are used are classified below:
Visual models : This is the starting step or prototype in the design process. This deals with the overall shape and component structure. This is affordable and easy to design. Physical aspects are the main thing.
Working : This PCB prototype deals with all the functions of the final product. It checks all the features that will work properly or not.
Proof of concept : This prototype PCB board checks if the design is valid or not. This checks all the primary factors except the capabilities of the desired product.
Functional : This PCB prototype deals with the final product and gives its overall look and how it will work. Also, identify the materials used so that the cost is low.
PCB Prototype Process And Technology
Following is the process which is necessary for the PCB prototyping:
Copper plating and Outer layer imaging
Plating of copper is required by using some chemicals on the surface of the outer layer. In outer layer imaging, you have to apply one more layer of photoresist.
Schematic design
The necessary information should be in a sequenced manner. This will help designers and engineers to produce the products as per the design easily.
Material
List down the bill of materials so that the required products are prepared. The bill of material is based on the quantity, reference designator, value, footprint, and manufacturer part number.
Routing design
In this step, you need to design the routing. This will help to connect the elements of the PCB.
Creation of photo films
Based on your design, professionals make photo film of the PCB using a plotter printer. A photo film of each layer is required.
Print and align the inner layer
Now, we put copper into the substrate material. Then a layer of photoresist has to be applied. When we apply UV rays, it hardens the photoresist. Remove the unwanted photoresist. Align the layers carefully so that the holes are punched in the right place.
Fusing
Fuse the layers after aligning. First, you need to layer up the holes. Then, bond it by using a bonding press computer because it controls the heat. Now, remove the extra pins.
Drilling
Drill the layers to make the holes for the other components that need to be inserted later. X-ray locator helps you to make the hole correctly.
Design
First thing is to design the PCB prototype. There is some software available for the design.
Plating using copper and tin
Again, copper plating is required. The Tin plating protects a copper layer.
Final etching and solder mask
Extra copper is removed by using some chemicals. The required copper is safe by using tin plating.
Apply surface finish and silkscreen
Gold or silver plating is needed for the final finish. Ink-jet writing has the important information that is applied on the circuit board by using silkscreen.
Cutting and Sourcing
Use a router to cut the board from the panel. This is separated after applying the electrical test. Sources of all components are necessary for the PCB assembly prototype stage.
Assembly and Solder paste
All the desired components are attached to your circuit board prototype. Solder paste is used to bond the outer layer of the PCB prototype board.
Pick & place and Reflow soldering
All the surface mount components are placed on the printed circuit board by using a machine. The reflow process is done on both sides.
Inspection and inserting through-hole components
Check the quality, poor connections, and electrical shorts. Some prototype PCBs require through hole components to send the signals from one side to another.
Functionality test
The final test checks the whole function according to the conditions of PCB prototype.
why choose technotronix as your pcb prototype manufacturer?
Client satisfaction is our primary goal! We are certified in prototype PCB boards in the USA. Our high quality of prototype printed circuit boards and testing is guaranteed. We have over 40 years of experience in providing PCB prototyping services. Feel free to ask if you have any questions regarding our PCB prototype services.
PCB Prototype is the model of the PCB design and it is used to check the quality, performance, and functionality of your printed circuit board. It can help to speed up the PCB design and manufacturing process.
Yes, we offer 24 hours quick turn PCB prototype solution without sacrificing quality of PCB boards.
Yes, we offer multi-layer PCB Prototype services.
Yes, our highly experienced team able to provide custom finish (such as OSP, ENIG, ImAg, ENIG etc) services based on your requirements.
Yes, we provide various thickness (0.062,0.092 etc).
Yes, we provide color difference for solder mask.
Yes, we offer metal core PCB.
Yes, we provide non-standard shape for PCB Prototype.
Yes, we offer both RoHS compliant or lead-free PCB prototypes.
We provide PCB prototype in minimum 1 x 1 inches and maximum in 18 x 20 inches size.
We offer PCB prototyping services like multi layered quick turn prototype, combined surface mount, chip-on-board (COB) and many other custom prototypes.
Get a quick quote
for any type of your requirements.
The cost of PCB prototypes is depending on the various factors including amount of materials, labor work, components, quantity, complexity of product and more. Once we receive your quote request, we will get back to you with quotation.
No, if we make the designs.
To get a quote for PCB prototyping, fill out this
PCB prototype quote
form with all the specifications and requirements & submit it. We will get back to you soon. In case if you any urgent requirements, you can also get in touch with us via
sales@technotronix.us
or
714/630-9200
.

You can use PCB Prototype quote request form and submit information. Alternatively, you can email us BOM and Gerber files along with information of PCB Prototype volume and type of PCB Prototype testing requirements you might have on sales@technotronix.us or call us on 714/630-9200 in case any other clarification is required in respect to our PCB Prototype services.

PCB Assembled in 24 hours
Best Turn around time for Prototype PCB assembly.
Kitted and Turn-Key option as per customers requirement.

REQUEST OUR BROCHURE
To know more about Technotronix
Request Brochure
Please provide your email address. We'll send you copy of our brochure in a PDF format.