SMT ASSEMBLY SERVICE
Whether your requirement is running small to high volume SMT assembly production runs, we are committed to manufacture the highest quality product through our vast experience and continuous improvement initiatives.
Surface mount technology (SMT) is the flexible and most used assembly process to produce modern, faster, and more efficient and high-strength consumer electronics, telecommunications, medical devices, and industrial control systems. With miniaturization becoming increasingly important, the importance of SMT technology is only slated to grow. By providing surface mount assembly services, we ensure optimal performance and cost-effectiveness as surface mount devices (SMD) are used.
CAPABILITIES OF SURFACE MOUNT PCB ASSEMBLY
State-of-the-art SMT assembly line that ensures reliable boards.
Production-ready components that improve turnaround.
Assembling single and double sided SMT PCB of the following types:

Ball Grid Array (BGA)
Ultra-Fine Ball Grid Array (uBGA)
Quad Flat Pack No-Lead (QFN)
Quad Flat Package (QFP)
Small Outline Integrated Circuit (SOIC)
Plastic Leaded Chip Carrier (PLCC)
Package-On-Package (PoP)
Small Chip Packages (Pitch of 0.2 mm)
Our stringent testing protocols for surface mount assembly include:
Automated Optical Inspection
X-ray testing
In-circuit Testing
Functional Testing
Therefore, we ensure a high level of accuracy even with high-density Surface Mount (SMT) PCB Assembly.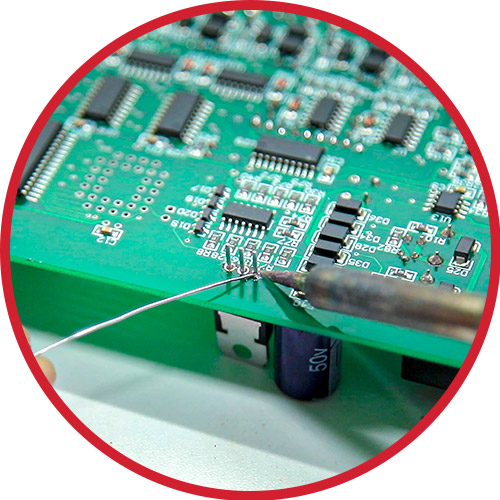 High speed circuits
Increased fabrication automation and density
Cost-effective and quick production
Maximum design flexibility
Improved performance and accuracy
Why us?
Technotronix has been a reliable SMT printed circuit board assembly manufacturer for over 44 years. Whether you are looking for a large production run or considering having PCB prototypes assembled for a new launch, we are totally equipped to handle it.
We have a state-of-art manufacturing unit to streamline the process. We customize our approach as per requirements to deliver the best results for our clients. All you need to do is to share your bespoke requirements with us, and rest assured that the board will be customized to your needs.
Surface-mount technology (SMT) is a method in which the electrical components are mounted directly onto the surface of a printed circuit board.
Yes, a combination of both manual soldering and automated soldering can be used.
Absolutely, our PCB assemblies are lead free.
Yes, we are fully equipped to handle any kind of custom SMT prototype board requirements.
Our testing protocols for Surface Mount Assembly include:
Automated Optical Inspection
X-ray testing
In-circuit Testing
Functional Testing
Yes absolutely. You can rely on us for turnkey SMT assembly service.
Yes, we will share custom quotes based on your bespoke needs and assemble SMT PCB bare boards accordingly.
Gerber Files
Bill of Materials
Component Placement or Pick & Place File