PCB Equipment
At Technotronix, we pride ourselves for delivering consistent quality of PCB assembly. We are dedicated to ensure precision and reliability with full audit. Quality is at the heart of everything we do and we are consistently working to improve the standard & overall process of delivering PCB assembly services to our clients. Our state-of-art facility, latest PCB technology, PCB assembly equipment and machinery enable us to achieve higher customer satisfaction for our services.
Our state-of-art facility includes various type of manufacturing equipment, rework station, soldering system, PCB assembly equipment, testing equipment, stencil printer, X-ray machine, automated inspection tool and many more PCB equipment for overall printed circuit board assembly process.
Take a quick look at some of circuit board assembly capabilities and PCB equipment:
Ekra Stencil Printer
Semi-automatic screen and stencil printer has been made for printing of a large variety of flexible and rigid substrates for applications with small to medium size production volumes, R&D as well as prototyping purposes. The maximum print format is 460 x 460 mm (18 x 18 inches) and the thickness of the substrate can go up to 30 mm (1,2 inches). The standard EKRA screen and stencil holder has a flexible layout which allows it to be used with all common stencils / screens up to 740 x 740 mm (29 x 29 inch) without use of an additional adapter. For a convenient substrate alignment, We have manual positioning system MOPS. The substrate is then manually aligned using high resolution cameras for reliable recognition of fiducials or other layout features. The easy to use Microsoft Windows based software allows for storage of all process relevant data. This process relevant data can easily be recalled again for quickest product changeovers. The machine is equipped with a flat print table and allows different kinds of printing adapters or clamping devices to be used. An automatic stencil cleaning system is optionally available as well.
Alignment accuracy: 10 um
Large variety of flexible and rigid substrates up to 460 x 460 mm can be printed
Flexible screen and stencil holder for all common screen/stencil sizes up to 740 x 740 mm (29 x 29 inch) without additional adapter.
Motor driven print table with high repeatability
Simple operation of the machine with easy to use MS-Windows based software.
All process relevant data can be stored
Quickest product changeover
Large variety of additional options can be integrated and are available upon request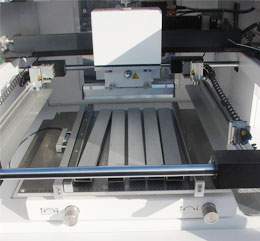 MY 12
Feeder capacity: 144 x 8 mm tapes; or 112 x 8 mm tapes and 32 JEDEC trays with TEX.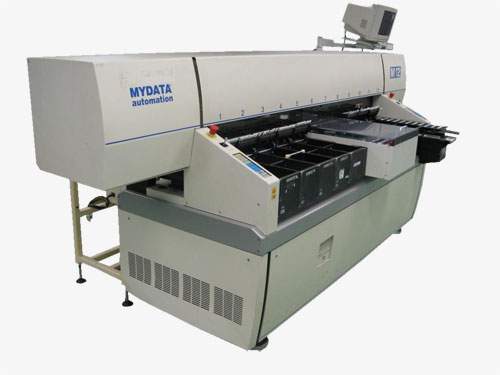 Based on a single platform, MY-Series machines combine feeder capacity and speed with the ability to place any component fine-pitch, BGAs, QFPs, chip scale BGAs, CSPs, flip chips and 0201s. So whether we are building prototypes or running high-volume, in-line production, MYDATA machines can answer virtually all your placement needs.
Plus, with MYDATA's split-axis layout and rigid construction, So they will remain reliable and accurate far into the future.
A single machine concept: one machine can produce any board with any component.
Rigid split-axis layout for long-term accuracy.
Flexible, stable and easy-to-use software for full production control.
Made for fast changeovers and maximum uptime.
Prepare and download mount programs to quickly respond to engineering changes.
Maintain high throughput with features like low feeder warning, Autoteach of package, barcode solutions and shared databases.
Traceability data, such as batch information, is stored for each individual PCB, and for every component placed.
Ensure data integrity with password protection, single-point data storage and automatic network backup.
Production engineers can monitor machine performance and download quality tracking information off line.
Maximize machine utilization with multi-job optimization and scheduling software.
Samsung CP45FV NEO
The CP45FV Neo is a high speed, flexible placement machine. With its unique technology it performs high speed mounting at 20,200 cph. In addition it can place any type of components shown in the market ranging from tiny 0201 to large QFPs; from BGAs to fine pitch CS Ps.
Advanced Flying Vision System
The Flying Vision System, developed by Samsung, utilizes separate cameras for each of the 6 heads. Standard packages and chip components can be picked-up and recognized simultaneously, resulting in high speed placement up to maximum 0.178 sec/chip.
Digital Illumination System
The fully programmable illumination is optimized for each component shape. This system is further enhanced with a wide range of cameras (20mm, 35mm, 45mm) for the high precision placement of components ranging to a maximum 42mm including QFP, and 0.3mm Fine Pitch.
High-Speed CSP Placement
The speed of the Flying Vision System is fully utilized when handling CSPs. Every head can pickup components simultaneously and each head centers via full Vision simultaneously. CSP placement can be made at highspeed with absolute accuracy.
High-Speed Frame Placement
The CP45NEO enables the high-speed placement and reliability despite the high level vibration under the work with FEM formula of Base Frame. It also adopts the optimal new X-Y Gantry motor and server motor control resulting in advancing the component placement speed up to 10 %.
Heller Reflow Soldering Systems
The 1800EXL supports high-speed, high volume throughput at speeds up to 40 inches (one meter) per minute while conserving valuable factory floor space. Rapid response times and precise temperature controls assure process uniformity, regardless of component density or board loading, with identical profile performance in either air or nitrogen. The oven features an enlarged heating tunnel and baffle-free layout for 25% higher airflow, for six-sigma consistency, zone-to-zone and oven-to-oven, enhanced temperature uniformity, repeatability and highload handling. The 1800 EXL is a streamline oven with even more advanced features including a five-thermocouple board profiling and process parameter logging capability with the capacity to store up to 500 temperature recipes and 500 profile graphs.
Computer-controlled automatic lubrication system for "hands-off" maintenance
Easy-clean flux filtration system with disposable filter: can be removed and replaced while oven is running for "pit-stop" maintenance with no downtime and no change in oven PPM levels
Six-sigma reliability for the most demanding production environments
Flux filtration system removes up to 95% of flux from the atmosphere - processing boards in a flux-free environment
Rapid profiling changes plus fast warm-up and cool-down
Wide process window for "universal profiling"- allows many different boards to be run on single temperature profile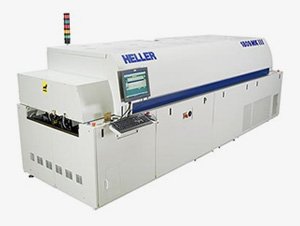 Wave solder machine
Automatic wave solder system with proven performance, self-contained fluxing, preheating and laminar (smooth) solder wave modules. Decrease labor costs by significantly reducing hand soldering.
The Spartan 12S (Single wave) and 12D (dual wave) solder machines can process printed circuit board assemblies up to 12" wide and require very little solder for their size. The single or dual wave soldering systems come complete with Conveyor, Foam Fluxer with Integral Air Compressor, Preheaters, and Stainless Steel Solder Pot with drain valve, and compact microprocessor Controller.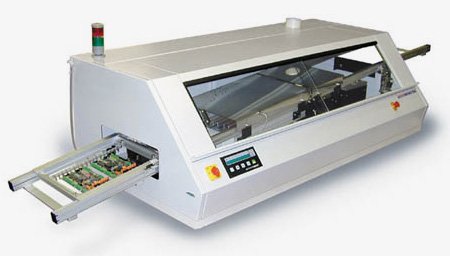 BGA Rework Station AH-6810
High-precision K-type thermocouple with closed loop control, automatic temperature compensation system, combined with Panasonic PLC and highly sensitive temperature module for the precise temperature control, the temperature error controlled within 2 degree; The external 4-5 sensors can detect temperature precisely, analyze and calibrate the real temperature curve accurately;
Mounting, welding and dewelding process are intelligent controlled and work automatically; BGA mounting position is controlled accurately; after finishing desoldering and soldering with a double over-temperature protection, there is alarming. When temperature goes out of control, the circuit w automatically power off;
Powerful cross-flow fan to cool the PCB board automatically after desoldering and soldering, it can prevent the deformation of PCB board to ensure the welding effect;
This machine is equipped with pressure and optical sensors. to control the pressure in 3-10 grams and optical switches, so that it can automatically recognize the suction chip and mounting height, to ensure not crush BGA chip; It can repair Socket775 and double BGA / CGA / IC and various shielding devices, meet the requirement of lead-free process.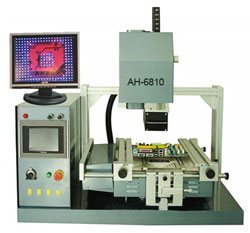 As a leading
printed circuit board manufacturer
in California, USA; We have ISO 9001:2015, ISO 13485:2016 & AS9100 Rev. D certified quality management system and comply to strict high-quality standards. We use RoHS compliant printed circuit board material based on client request.

If you have any requirements related to PCB assembly, PCB fabrication, PCB prototyping, quick turnaround PCB, industrial PCB solution or any custom printed circuit board manufacturing, Get a quick quote or Contact us at sales@technotronix.us or at 714/630-9200 to get complete solutions for your requirements!

PCB Assembled in 24 hours
Best Turn around time for Prototype PCB assembly.
Kitted and Turn-Key option as per customers requirement.

REQUEST OUR BROCHURE
To know more about Technotronix
Request Brochure
Please provide your email address. We'll send you copy of our brochure in a PDF format.