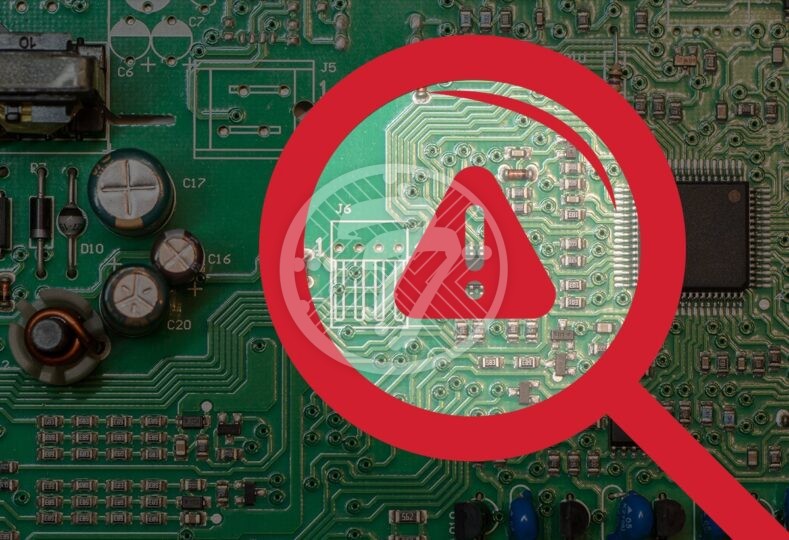 PCBs performing a very critical role in electronic Equipments a robust defect detection strategy is the need of the hour to ensure that any costly mistakes are avoided. This is true for both bare PCB boards as well as fully assembled circuit boards. Let us look at both these aspects in some detail.
Defect detection strategies for fabricated PCBs
Essentially, PCB fabrication is a very exact science that leaves very little room for error. One major requirement, therefore, is to verify the electrical continuity of the board.
There are two major ways for bare PCB testing of raw fabricated boards as below:
Bed of nails test fixture
Flying Probe test system
Bed of nails test
The way this works is that a test fixture is built for the specific PCB design. The fixture contains a number of spring-loaded test pins. In fact, this is where the test gets its name. The PCB is pressed down on the test pins, which in turn check them for electrical conductivity. This test is particularly known for its low testing time.
Flying Probe test
A Flying Probe test originated for bare board testing and involves testing for shorts, opens and the like. The main parameter that is tested is resistance between points. However, these tests have evolved to measure capacitance and inductance as well. In fact, this is what makes them effective for testing not just bare circuit boards but PCB assemblies as well. The many reasons why this test is popularly used for defect detection include:
They are cost-effective.
They have fewer accessibility issues as opposed to ICT testers.
Since the movement of probes is controlled by a software, changes are easy to implement.
As compared to ICT testing, they offer improved test coverage.
Defect detection testing also benefits from the first article test. Essentially, this involves the testing the first circuit boards to establish what is known as "gold" units. If the first article tests do not show any defects, the entire production run is considered to have passed the connectivity tests. Another important purpose of the first article is also to set up a process of record for the board production. Once the POR is established and replicated, you can rest assured that each board will function similarly.
For the first article inspection, therefore, it is necessary to look at the following aspects:
Measuring and recording all the attributes of the board be it dimensions or resistance. Once these values are verified with the design specifications, you can rest assured that the board is good to go.
is also important to check for clarity in documentation.
For assembled boards, it is important to check that the parts and material installed, match the laid down specifications.
These steps ensure that any defects are ascertained at the first article stage itself and then you do not proceed to a large run production without sorting these out. If any errors are found, corrective action can be taken. Any changes that may be needed in design can also be identified at this stage.
In case of a bare PCB board, which is relevant or manual as well as automated inspection techniques. Simply put, what automated optical inspection does is to scan the board and then compare its image with that of the first article production board. Any errors are thus easily flagged. In addition, there are also manual inspections by trained technicians to ascertain any errors that may have been missed by the automated systems post the bare board manufacturing.
With so many checks and balances, an experienced Bare Board manufacturer can significantly reduce probability of errors and defects in bare PCBs. The bare boards ready for the next step, which involves mounting components on the board or what is popularly known as PCB Assembly.
Although we are largely talking about PCB Bare Board Manufacturing and ascertaining defect detection strategies for bare boards, it will be prudent to briefly look at some defect detection strategies for PCB Assemblies as well. Some of these include:
Visual inspection
Automated inspection
Flying probe testing
In-circuit testing
Functional Testing
Importantly, it is also important to ensure that the PCB design is optimized for manufacturability. In the absence of that you can run into a host of issues such as solder defects, Tombstoning. A PCB manufacturer with a proven track record can go a long way in helping you with robust design principles as also adherence to DFM rules and processes.
At Technotronix, we have over 4 decades of experience in fabricating as well as assembling high quality bare PCB boards. We configure PCB bare boards as per your specifications while also offering effective bare PCB testing capabilities. We can manufacture configurations of bare circuit boards based on your custom specification. please explore PCB fabrication services. Also, you can drop an email to sales@technotronix.us or give us a call at 714/630-9200 to solve your queries or to get a quick quote!